Picking up from my previous article, I touched base on my thoughts and former studies regarding leading team members to feel motivated and happy attending their job each day.
Many would think that money is the primary motivator for returning to the same job day in and day out. However, there are varying research results proving that money is not the only or primary motivator for the human race. In an article written by Huy Sindell, Ph.D. and Milo Sindell, M.S in Psychology Today, studies have proven that there are 3 key factors that motivate people in their work.
First and foremost security is necessary for individuals to return to their place of work each day. Obviously individuals have core financial needs to be able support themselves and their family, but they also have a need to feel security in the workplace. Employees need and want to work for a company that is financially sound, culturally supportive, and progressing as a whole. Once an employee feels that these basic needs are met, they also are seeking recognition and stimulation in their day to day. Let's face it; we all love the reward from a job well done. When reward is omitted from the day to day equation for an employee; efforts, quality and innovation may decrease. Non-stimulating work, tasks, and monotony also produce lesser results.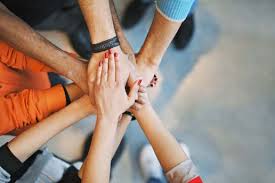 So let's think about how we can keep one another stimulated and still get the necessary work done. I am not suggesting taking a walk and singing together like I did with my kindergarteners, but I am suggesting changing it up a bit. By reviewing the 8 types of learning listed above, I hope that you can think a few ways to stir up your team. Consider the ways that people learn and provide activities or assignments accordingly. Also, provide security. Share the state of your company, share results, mission statements and short and long term objectives- work your team into that plan. Set goals and follow through on them- celebrate the accomplishments and recognize each person! Study other company successes and model their high points- Fortune.com published among the highest ranked best places to work are: Google, The Container Store, and Edward Jones among many other private and public companies. The scores were compiled solely from each organizations employees (selected randomly) and sought answers regarding management, culture, communication, reward programs, and overall job satisfaction.
On top of keeping things interesting and non-stagnant, the three key foundation factors to consider are: security, reward, and stimulation.
Some of the things we do at SK to keep our days engaging:
Security:
1. Although Shirley K's is small, we are mighty with our 401 K and health insurance benefits- sure factors to help our employees feel secure
2. Paid vacation, holiday, sick, and bereavement days
3. We host pre-holiday lunches and cookouts
4. Clear written and posted objectives, processes, and expectations of all team members
5. Quarterly reviews with direct manager and president of company
6. All managers reflect an "open door" policy for all employees at all times
Reward:
1. Profit sharing for all team members
2. Daily, weekly and monthly goals published and celebrated with incentive gift cards when accomplished
3. Annual raises based upon productive performance and tenure
Stimulation:
1. Company wide philosophy known as "circles of responsibility" allowing each team member a voice and platform for continuous improvement
2. Quarterly goals set by employee and supervisor to improve knowledge and practice
3. Scheduling and financial support of continuing education and industry specific trades
4. Fitness room for overall wellness
5. "Plant/office" cats that keep everyone entertained and relieve stress on hectic days
What practices have you have found in your experiences that have fallen into the security, reward, and stimulation categories?