ZANESVILLE – From staying connected to its roots in Muskingum County to manufacturing products that are American-made, Shirley K's is a local company that is carrying on the traditions of the family plastic thermoforming business with a line of products developed by the business' namesake.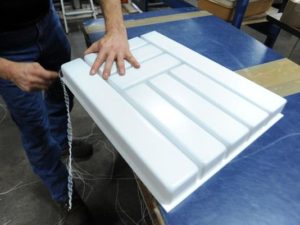 "It's a family legacy, the love of thermoforming and the love of the product," said Carrie Matheney, president of the company.
Shirley K's manufactures more than 200 products including storage and organization trays and totes for school, home, medical and industrial needs. The company also makes custom items, pet products and other thermoformed plastic storage products at its new location at 1150 Newark Road.
The history of the product line began at the Farbri-Form Co. in New Concord, the family business that was founded in 1943 by Matheney's grandparents, Jack and Shirley Knight.
Matheney and her father, John Knight, CEO of Shirley K's, recently sold the Farbri-Form Co. with the goal of expanding the product line that was created by Shirley Knight. As a chemistry teacher in the 1970s, she realized the need for storage space in the classroom, which inspired her to develop the product line of storage solution products. Read More