Shirley K's has exciting news! Because we love all things organization, we are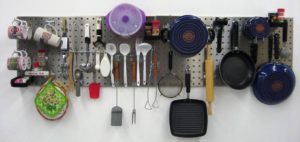 excited to announce a new product line that we are offering manufactured by Triton Products out of Solon, Ohio. Triton specializes in pegboards, socket and tool storage, mobile tool carts and much more.  As Shirley K's continues to strive to offer full circle storage and organization to our customers we knew that these quality products would be a perfect addition to our offerings.
Additionally, we endorse these products as they promote 5s and lean maintenance processes for Industrial, Commercial, and Home environments enabling the end user to work with the upmost ease and efficiency.  Customize every department in a factory and maintenance area and in many areas in the home by using the secure and visual storage products.  All shelving and hooks "lock" onto a tool board or into a framing system to assure safety, usability and secure storage for your hand tools, loose parts and other items.