Shirley K's is a leading supplier of multiple purpose plastic storage trays nationwide. Our trays are designed specifically with storage needs in mind. The durable and functional design makes these trays ideal for a variety of uses.
Storage and compartment trays are designed to conveniently separate and organize items. Store them on tabletops, workbenches, desks and project tables or place them in drawers, cabinets and closets for optimum organization. Three useful compartment models offer 20, 8 or 3 compartments.
We offer a variety of sizes in "Colored Trays" and "Tan-Only Trays". You can view the fliers below for our STOCK products.
If you request a Tan Tray product to be produced in any other color than tan, they will be considered non-stock products which require a custom quote. Request a Quote Here
Made of sturdy high-impact polystyrene with a high gloss finish
Unbreakable in normal use
Smooth surface resists soiling and is easily cleaned
Resists inorganic chemicals
Lightweight and easy to handle
Designed to nest inside of existing storage areas and under tables and desks
All trays include a convenient aluminum card holder for labeling
99 sizes are available to fit all standard installations
Plastic support panels and aluminum rails available for tray storage placement
All sizes are measure from lip to lip/outside dimensions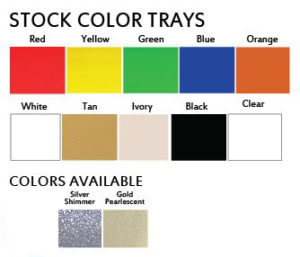 View flyer for size & color options
Color Trays
Tan Trays & Accessories
Order By Fax
Print and fax an order form below for our selection of stock trays. Choose between color trays, tan trays and accessories. Fax the form with quantity, color, and company information to 740-868-8142.
Email orders
Scan and email the forms below to shannon.christie@shirleyks.com
Order by phone
Call (740) 868-8140 during normal business hours to place your order.
Color Tray - Order Form Tan Tray - Order Form Rails & Panels - Order Form