As we approach Thanksgiving Day, I would like to express my thanks to our customers, employees, families, and our great nation. I am thankful for the opportunity to work, create, and collaborate with wonderful co-workers. 
I am thankful for the legacy that Grandma Knight and John created, and for my family that has supported us as we extended this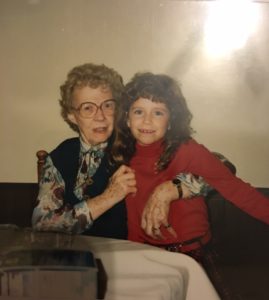 company into something new. 
In reflection of our gratitude, our team will be sitting down together for our annual Thanksgiving lunch today.
We thought it would be fun to share with the team this picture of myself and Grandma Knight from back in the day. ….. By the way, one more thing I am thankful for- no longer having a perm and big bangs 🙂
Happy Thanksgiving! Wishing you continued blessings today and every day.
~Carrie Matheney