For your convenience, our most common customer questions are answered right here. Not finding what you want? Reach out directly through our
Contact Us
page.
Q: How do I place my order?
A: You can place an order by phone, fax, or email customerservice@shirleyks.com
Q: What information is needed to place my order?
A: Company Name, Company Address, Contact Name, Phone, E-Mail, PO Number, Shipping Address, Shipping Method, Part #, Color, Quantity
Q: Are the dimensions given in you
r catalog inside or outside dimensions?
A: Dimensions given in our catalog are measured from the outside/lip to lip.
Q: What is the password for the wholesale pricing log in?
A: Please contact us for the password to our wholesale pricing.
Q: How is your panel system installed?
A: Click here to view installation video
Q: What are my shipping options?
A: Shipping can be arranged on our shipping account as prepaid and add or you may provide your own shipping account number and instructions.
Q: Do you accept credit cards?
A:  Yes we accept Discover, MasterCard, American Express, Visa.
Q: Do you require minimum buys?
A: Stock items do not require minimum buys, click here for stock items. Non-stock items do require a minimum buy and are quoted upon request. Please contact us for more information regarding non-stock items.
Q: What are your stock colors?
A: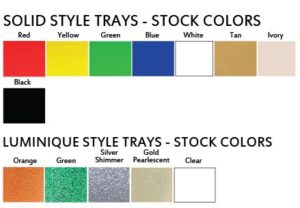 Q: Can I order a custom color?
A: No problem, just send us a sample of your color choice and we can match it for large volume orders.
Q: I do not see the style or size I am looking for.
A: Contact us for further assistance, we do offer a variety of other options.